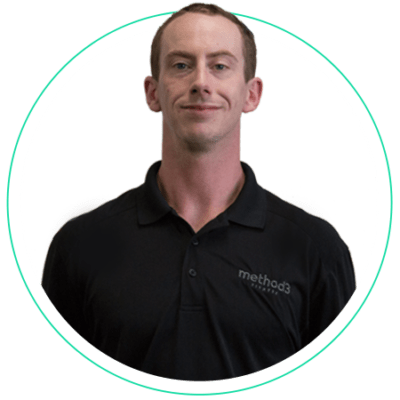 Keith Lucitt
Keith Lucitt is the Lead Fitness Coach and primary Internship Liaison at Method3 Fitness. Coach Keith is dedicated to helping individuals improve the way they move, eat, and think. With a strong foundation in the fitness industry since 2009, Keith continues to expand his expertise, including being TOA (Training The Older Adult) certified.
He holds an American Council on Exercise Personal Training Certification and possesses a diverse skill set that includes TRX Suspension Training, Personal and Group Training, Sports Medicine, RIP Training, Functional Training, and other movement disciplines such as Functional Range Conditioning. This extensive knowledge allows Coach Keith to lead from the front, designing expert programs, demonstrating exceptional coaching skills, and bringing unmatched passion to help clients achieve their goals and live Stronger For Today.
Beyond the studio, you might catch Keith running the trails in vibrant colors or conquering climbing walls, showcasing his active lifestyle and love for outdoor activities.