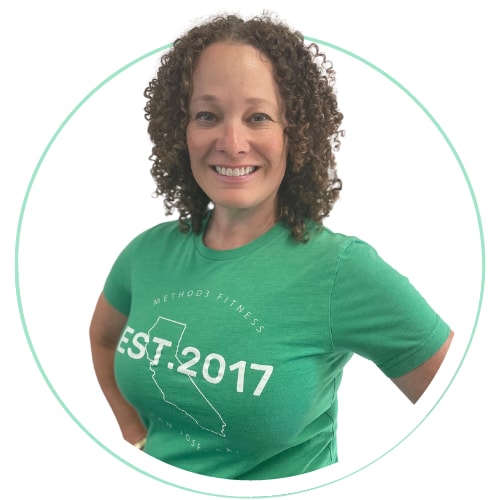 Mira Albert-Bullis
Mira's superpower is helping people learn to do new things with their bodies. As a self-described anatomy and kinesiology geek, she loves exploring various forms of movement. Mira initially joined the Method3 Fitness family in 2017, and her curiosity led her to pursue certification as a Personal Trainer in 2022. Alongside her Personal Trainer certification, Mira is TOA (Training The Older Adult) certified, allowing her to provide top-notch training to help older adults achieve their fitness goals and improve their quality of life.
With 20 years of experience as a yoga instructor, 12 years as a former massage therapist, and a season as a snowboarding instructor, Mira brings a wealth of knowledge and expertise to her coaching. Her passion lies in helping people feel comfortable, at ease, strong, and confident in their bodies.
During her free time, Mira enjoys engaging in outdoor activities such as paddle-boarding, kayaking, hiking, and walking her two dogs. She also cherishes moments of travel and camping with her family and friends. When she's not exploring the outdoors or curled up with a book, you're likely to find her at the ice rink, fully embracing the role of a hockey mom as her teenage daughter plays competitive ice hockey on a nationally bound team.
Coach Mira's dedication to continuous learning and her TOA certification make her a valuable asset in guiding Method3 Fitness partners to live Stronger For Today.