Here at Method3 Fitness, we think that sleep is one of the most undervalued healthy habits out there. Not only does sleep play a major role in keeping your energy levels up, how much you get each night along with the quality of your Zs can actually determine your long term physical and mental health. That includes weight loss, muscle retention, disease prevention, and so much more!
It's Time to Supercharge Your Sleep
Your San Jose personal trainers have created a the ultimate guide to educate you on all things sleep. In it you'll learn:
Why Sleep Matters
How Much Sleep You Need
Major Health Risks that Increase Due to Lack of Sleep
How the Position You Sleep in Affects You
17 Amazing Tips to Help You Supercharge Your Sleep
The Major Benefits of Getting Enough Zs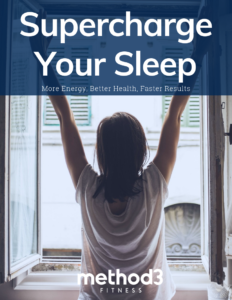 Click Here to Download the Supercharge Your Sleep Guidebook now!
How much sleep are YOU getting each night? Is it quality sleep? We'd love to know! So leave a comment below 🙂
Stronger for Today,
The Method3 Fitness Team
If you found this blog useful, be sure to LIKE, LEAVE A COMMENT, and SHARE it on your favorite channel!
The Method3 Fitness blog is updated weekly. All content is designed to improve the way you move, eat, and think so you can achieve your goals and live stronger for today. Check back here each week and LIKE our Fan Page, to stay up to date on the latest tips, strategies and methods to get fit, lose fat, and build confidence. Ready to get started with us? Click here to get a free week of workouts!