Have you ever noticed that every week someone else in your social media newsfeed is hosting a "detox" or running a "cleanse"? FYI… Method3 Fitness is not a fan. These cleanses usually involve restriction, elimination of food groups, or purchasing a lot of supplements. And let's be honest, there really is not point in doing something unsustainable for a short period of time only to go back to your normal habits afterward.
Instead, we want you to keep your systems as healthy as possible without all that craziness. That's why today we're sharing 10 natural and easy-to-implement ways to keep your system healthy and functioning optimally. If you do these things day in and day out, we guarantee you'll feel like a million bucks. Bonus: you'll never fall for one of those crazy short-term fixes again.
Click here to download our Infographic 10 Ways to Cleanse without Restriction & Gimmicks.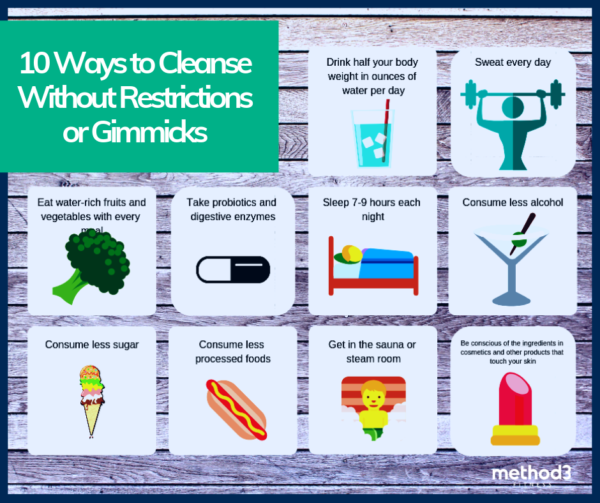 Stronger for Today,
The Method3 Fitness Team
If you found this blog useful, be sure to LIKE, LEAVE A COMMENT, and SHARE it on your favorite channel!
The Method3 Fitness blog is updated weekly. All content is designed to improve the way you move, eat, and think so you can achieve your goals and live stronger for today. Check back here each week and LIKE our Fan Page, to stay up to date on the latest tips, strategies and methods to get fit, lose fat, and build confidence. Ready to get started with us? Click here to get a free week of workouts!