One simple habit that can make or break a nutrition routine is writing down what you eat. You can do this one of two ways:
Plan what you're going to eat in advance.
Write down everything you eat as you go.
Our San Jose personal trainers and nutrition coaches recommend the latter. In fact, planning out your meals is a great way to ensure that you're consistently eating healthy meals, instead of grabbing whatever is available.
Click here to download our Simple Meal Planner/Tracker Template.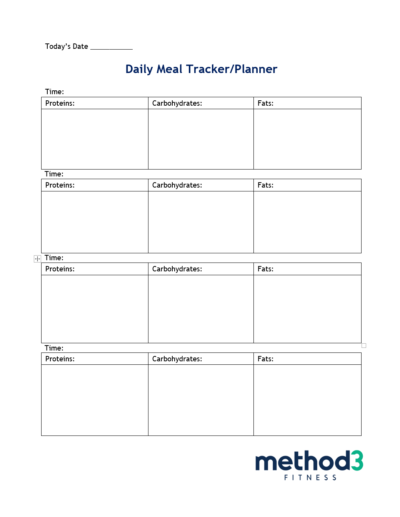 Try using this Meal Planner/Tracker for the next 3 days. At the end of each day, reflect on how it has changed the way you approach what and how you eat, then leave a comment below sharing your experience!
You should also check out our blogs "Meal Prep 101" and "3 Days to A Trimmer Tummy" for information and examples on how to put together meals.
Stronger for Today,
The Method3 Fitness Team
If you found this blog useful, be sure to LIKE, LEAVE A COMMENT, and SHARE it on your favorite channel!
The Method3 Fitness blog is updated weekly. All content is designed to improve the way you move, eat, and think so you can achieve your goals and live stronger for today. Check back here each week and LIKE our Fan Page, to stay up to date on the latest tips, strategies and methods to get fit, lose fat, and build confidence. Ready to get started with us? Click here to get a free week of workouts!