A frequent concern I hear from women in their late 40's to late 50's (and beyond) is "I just can't lose weight," followed by a demonstrative grab of their mid section. You know… the dreaded "menopot!" (aka menopause muffin top). If you're a woman in this age group, menopause is a reality. Whether you're in the peri-, pre- or full blown menopausal years, if you desperately want to lose weight or at least maintain and have tried almost everything with little to no results, this blog is for you. The truth is that, YES, our bodies change. But NO, that doesn't mean we can't get the fitness results that we want. You simply need to change your approach! Read on to find out how.
Change the Way You Eat
Starting at around age 50, women stand to lose 5-8% of their muscle mass each decade. The decreased muscle mass means we need less calories to keep our bodies functioning. So if you're eating the same amount of food at each meal that you did when you were 20, you're probably having too much. The other thing I hate to tell you is this: you can't regularly overeat and expect to burn it off like you did a couple of decades ago. Indulged on the weekend? At 25, you could run a mile on the treadmill, cruise for 20 minutes on the elliptical, or go hard in a high intensity class, and you were golden. No weight gained. That doesn't work anymore. I'm not saying you have to starve yourself (i.e. go low carb, no carb, low fat, no fat). Actually, restricting calories too much, in an attempt to find that quick fix, will inevitably backfire.
My suggestion: Find balance. Eat quality foods – think lots of vegetables and fruit with reasonable portions of protein and fat. It's also okay to have grains and starches in moderation. Check out our blog titled "Meal Prep 101." It has great tips on how to eat, plan and prepare meals for a healthier lifestyle. You can also check out our piece on 3 Days to a Trimmer Tummy, which contains a printable three-day meal plan.
Change the Way You Move
Along with aging comes seemingly inevitable aches and pains. An injury used to sideline us for a few days tops. Now that same injury feels like it takes forever to heal. As I mentioned before, part of that is due to muscle loss. If you don't want this challenge to slow you down, take charge.
My suggestion: Make strength training your go-to. So many people use cardio as their main form of exercise when in reality we need to pump iron, use resistance bands, or do something that challenges our muscles. Here's something you'll be happy to hear. Increased muscle = increased calorie burn. One study of 60-something women who did resistance training showed that those who lifted weights at least 2 times per week lost significantly more weight and significantly less muscle mass than their peers who participated in cardio only exercises. Work with a qualified trainer or coach to find exercises that allow you to work within your limitations, but still keep that muscle build going.
Change the Way You Think
Stress from life or career demands sometimes peeks simultaneously with our changing bodies. It causes a release of cortisol, producing increased fat storage. For many women, guess where it wants to land? In the midsection, of course! It's important that you find ways to reduce stress in your daily life:
Find time for meditation or reflection – It can go a long way to helping you control your stressors and reduce your weight.
Sleep more – Sleep disruptions are a fact for many menopausal women. Lack of sleep ramps up our hormonal activity that increases hunger and promotes fat storage. Try to develop a consistent (and adequately long) sleep schedule to promote the necessary reset your body needs.
Case Studies of Three Women
Our studio runs a 5 week nutrition, fitness, and mindset program titled "Thrive in 35." This summer, the three women who lost the highest percentages of body weight over the course of the program had several things in common:
All were over 55 years of age
They had been menopausal for 5+ years
Each had physical limitations that required drastic modifications to exercise.
Kathy P.
Kathy was sidelined by an injury that prevented her from attending group workouts. Instead, she worked one-on-one with a coach and really focused on dialing in her nutrition. She was optimistic from the get-go. She told us, "I see so many people my age, sometimes younger, sometimes older. They are so limited in their ability to move. In adapting the Thrive lifestyle, I've seen my energy go way up. I am striving to keep my healthy lifestyle. Losing weight and going down to smaller sizes, sleeping better at night, and being able to play with our active grandsons makes me so happy! It takes the bite out of aging, and as a bonus, I feel great!"
Lisa R.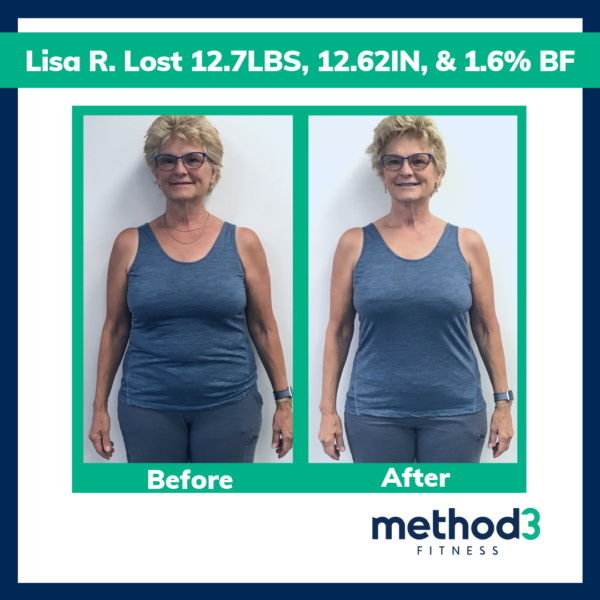 Lisa confessed to us that she had some mental barriers which, in the past, have prevented her from losing weight on her own. This year, she was ready and deter
mined to move past those barriers so she could succeed. She admitted, "Even though I would like to say that I don't need someone checking up on me, I do. I need the accountability and the check-ins." She went on to say that "the other thing that makes Thrive In 35 sustainable for me is that I still eat foods I love. There isn't anything totally off limits. Just knowing that helps me fo
cus."
Nancy P.
Nancy had been working out for some time and had even tried working on her nutrition in the past. What made the difference for her this time?
"I made the program fit into my lifestyle, not my lifestyle fit into the program." For a busy professional like Nancy, cooking was low on her priority list, so it made sense to have a working list of grab-and-go options that she could put together quickly and easily. An unexpected effect was that eating well re-energized Nancy's exercise routine. "It reminded me why I love it." The best part was that the women she worked out with at Method3 were all participating in the program too. The camaraderie helped pull it all together.
Combined, Kathy, Lisa, and Nancy lost a total of 21.78% of their starting weight. That's 32.5 inches, 9.5 % body fat, and 46.4 pounds in just 35 days!!! And that's only the beginning. They are all continuing with the program and continuing to lose weight and inches and body fat. As you can see, despite challenges, none of them gave up.
Bonus: Gloria B.
Gloria was a self-diagnosed junk food addict. The idea of cooking was absolutely beyond her consideration. In her own words, "Once I accepted that my journey was different from others, I was on my way to making real, sustainable changes.". She now cooks once a week for the entire week, bringing a lunch and snacks with her to work. Click here to read more about Gloria's journey.
All of the women above committed to making positive changes. Then they turned those changes into a lifestyle. What will YOU do to ensure that you stay healthy and fit through menopause and beyond?
Stronger for Today,
Sue Davis
Director of Nutrition
Would you like to get results like Kathy, Lisa, Nancy, and Gloria? Click here to sign up for the Early Bird List, so you get notified when enrollment for the next Thrive In 35 session begins.
If you found this blog useful, be sure to LIKE, LEAVE A COMMENT, and SHARE it on your favorite channel!
The Method3 Fitness blog is updated weekly. All content is designed to improve the way you move, eat, and think so you can achieve your goals and live stronger for today. Check back here each week and LIKE our Fan Page, to stay up to date on the latest tips, strategies and methods to get fit, lose fat, and build confidence. Ready to get started with us? Click here to get a free week of workouts!