Many people think that if they work out hard enough, they'll be able to shed all of their unwanted pounds and achieve the body they want. It's true that workouts will get you part of the way there. Unfortunately, for most of us, the fat lingers in the place we most want to slim down… the belly. That will only change if you're willing to improve the way you eat. By doing so, you'll not only get faster, longer lasting weight loss, but you'll be well on your way to a trimmer tummy.
Eat to Trim Your Tummy
There are three areas you must consider when eating to lose belly fat.
Types of Food – Make choices that will provide you with good nutrition.
Portions – Maintain serving sizes that your body can digest and are adequate enough to fill you up.
Meal Timing – Space your meals about 4 hours apart for optimal fat burn potential.
Try These Sample Meals
In our experience working with clients, most people know what to eat, but they have a hard time finding the right combinations and portion sizes for weight loss. That's why our San Jose nutrition coaches decided to make it easy by doing the work for you! Here are 3 Days worth of Simple Sample meals that you can use to jump-start your weight loss.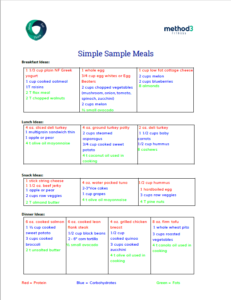 Feel free to mix and match items of the same color (i.e. oatmeal in the first breakfast column can be swapped with sweet potatoes in the second lunch column). Also, note that there are two difference documents, one for men and one for women. I know it's not fair, but they get to have a bit more 😉
Try out the meal plan, then let us know how it went!
Want Individualized Portions?
The sample meals are designed as a general template to give you an idea of how the average woman or man should eat during each meal. The amount you should eat may differ depending on your age, activity level, and basil metabolic rate. During Thrive In 35, our flagship fitness, nutrition, and mindset program, we calculate the numbers for you, give you a library of delicious recipes you and your family will love, and teach you how to put together your own meals so that you're enjoying your favorite meals (i.e. wine or pancakes!).
Stronger for Today,
The Method3 Fitness Team
Did you like this blog? Make sure to LIKE and SHARE it with your network.
The Method3 Fitness blog is updated weekly. All content is designed to improve the way you move, eat, and think so you can achieve your goals and live stronger for today. Check back here each week and LIKE our Fan Page, to stay up to date on the latest tips, strategies and methods to get fit, lose fat, and build confidence. Ready to get started with us? Click here to get a free week of workouts!