"I had more energy, felt more active, my sleeping improved, and I just enjoyed life a little easier." ~Mike Garcia

Friends, meet Mike Garcia, a guy whom his coaches consider to be an inspiration for all of the successes he's achieved here at Method3 and in his personal fitness life.
Mike's Story
Mike first joined the studio about 4 years ago, but has had to take breaks from time to time due to recurring knee injuries. While he used to jump at the chance to go all out as soon as possible after surgery, Mike has learned to ease into recovery much slower and smarter than he has in the past. To top it off, says General Manager Kevin Rawson, "He has a great attitude about it."
John Heringer, Owner and Chief Motivator of Method3 agrees wholeheartedly. "Talk about a guy who pretty much, in the athletic world, hit rock bottom. Mike nursed himself back to health, went through physical therapy, and had the desire to come back and train with us. He started with nothing but one on one 30 minute training sessions for a while and then made it full circle back into group training and running. That's a hard journey and he's crushing it! Now he's taking it to the next level by dialing in the nutrition and weight loss piece. "
Participating in Thrive In 35
Mike just completed his first enrollment in Thrive In 35, our flagship nutrition, fitness, and mindset program. Throughout his five weeks of participating, he lost 7LBS, 8.25 INCHES, and 1.5% BODY FAT. But even more than that, Mike learned that what and how you eat is a key component of losing weight and living a healthy life.
Watch the video below to hear about Mike's experience during Thrive In 35, what he learned during the program, and why he continues to work out at Method3 Fitness.
Part of the Community
Also notable throughout Mike's journey are the connections he's created at Method3. His coach and studio Lead Trainer Keith Lucitt reveals "He's made a lot of friends on and off the mat. He's very social and actually hangs around well after class to chat and socialize!" The other coaches and fellow partners agree completely. They see Mike as friendly, supportive, and driven, both to make a difference and to succeed. We couldn't be more proud of the great things that he's achieved thus far and we look forward to seeing even more progress in the year to come.
"Many people in his position would just give up, but he made a commitment and he continues to make the commitment to stick with it" ~ Sue Davis, Director of Nutrition
Get Results Like Mike: Enroll Today
Enrollment for the Spring 2018 Thrive In 35 has already begun! There are only 75 spots total and they always fill up fast!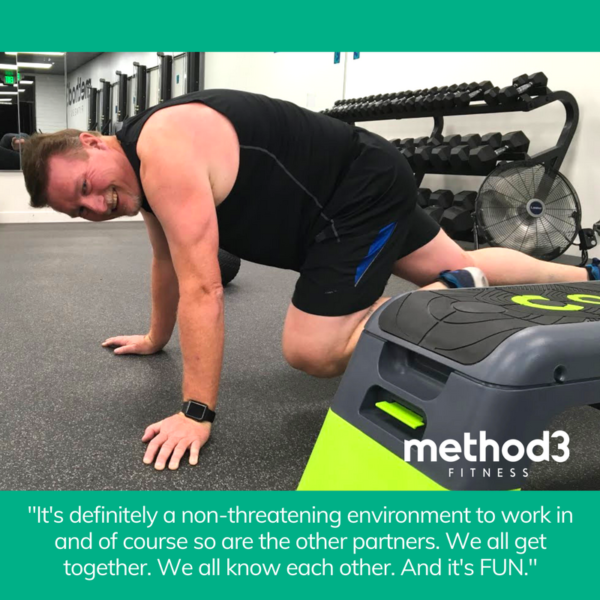 Sign up today so you have the opportunity join 74+ new friends on your best nutrition and fitness journey ever! Thrive In 35 will officially run from Sunday April 15th through Saturday May 19th with a mandatory orientation on Friday April 13th. Starting measurements taking place the week before.
Early Bird Pricing: Current Partners can enroll for only $247.
New Partners enroll for only $347 and workouts are included!
The price goes up at 4:00pm on Friday March 30th ($297 for current partners and $397 for new partners) so ACT FAST. Enroll today by calling us at (408) 371-1212.
If you're ready to take control of your health and fitness goals once and for all, you won't want to miss the opportunity to sign up for Thrive In 35. In addition to learning how to properly fuel your body for weight loss and lasting health, you will gain a newfound confidence in your body and in yourself. Simply call us NOW at (408)371-1212 to register today!
Stronger for Today,
The Method3 Fitness Team
Did you like this blog? Be sure to LIKE, LEAVE A COMMENT, and SHARE it on your favorite channel!
The Method3 Fitness blog is updated weekly. All content is designed to improve the way you move, eat, and think so you can achieve your goals and live stronger for today. Check back here each week and LIKE our Fan Page, to stay up to date on the latest tips, strategies and methods to get fit, lose fat, and build confidence. Ready to get started with us? Click here to get a free week of workouts!