Are you someone who loves fitness and wants to make 2018 the year you take your training to the next level? Or perhaps you're a runner looking to conquer your first obstacle run. You're in luck! Method3 Fitness in San Jose is offering a 5 week obstacle course trail training program designed to help you reach your goal.
Why You Should Tackle an Obstacle Course
Coach Yvonne knows what it's like to hit a wall in your personal fitness journey. She experienced it herself in 2013 when she turned 45.
I hit a plateau and couldn't seem to cross over that hump. It affected my work. I tried to keep my workout routines challenging and exciting, but it just wasn't enough. And I became frustrated. That's when I discovered the world of obstacle course runs (OCRs), more commonly referred to as mud runs. My very first OCR was the Spartan Beast. I got together with a group and we spent 11 months training and preparing for it. It was 13 miles and 30+ obstacles. And I conquered it because of my training.
This is what compelled Yvonne to create the Obstacle Course Trail Training Program. As she frequently tells her clients, "It's never to late to get to that optimal level of fitness."
The Benefits of Training with Yvonne
The obstacle course trail training program is your chance to
Build muscle
Shed fat
Increase endurance
Work on areas of weakness
Walk taller
Smile more 🙂
all with the support and guidance of an experienced San Jose personal trainer and a team of positive, like-minded individuals working toward the same goals as you are!
Participate in the Obstacle Course Trail Training
The Spring Obstacle Course Trail Training session runs for a period of 5 weeks. There are packages available:
3 weeks – $48 Current Partners/$87 Non-Partners
4 weeks – $60 Current Partners/$110 Non-Partners
5 weeks – $70 Current Partners/$120 Non-Partners
Days and Times
Sessions are on
Saturday Mornings at

7:00am
.
They begin on Saturday 4/14/18 and run through Saturday
5/12/18.
Frequently Asked Questions
Where do we meet for training?
You will meet at Quicksilver or Lexington Reserve Trailheads for training. Yvonne will share the exact location for each week with those registered.
What gear should I bring?
Always bring a water bottle and trail shoes. Make sure to dress in layers and bring gloves if your hands tend to get cold.
Is the training for 5 weeks or 3 weeks?
We understand that you have a busy life and may not be able to make all five days of training, so we've created the option to purchase can purchase a package for 3, 4, or 5 total weeks.
How long is each session?
30-90 minutes. The first few sessions are shorter in duration. As your fitness progresses, the sessions become longer.
Will we meet if it's raining?
Yes! Obstacle course runs take place rain or shine. So will your training!
Are there a limited number of spots?
Only 20 spots are available. Call the studio at (408)371-1212 today to reserve yours! Or contact Yvonne at
yvonne@method3fitness.com
.
2018 OCR Runs
This list is just a smalls sampling of events that some of our partners will be rocking in 2018.
About Yvonne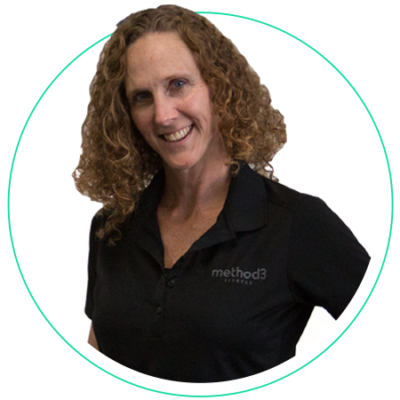 Yvonne is a 49 year old mother of 3 who has a passion for living life to its fullest! She believes Living Stronger Today will create a more fulfilling tomorrow. Yvonne loves to work with people from all walks of life, but has a passion for rebuilding the broken and "Leveling up" so whether you're just trying to regain an active lifestyle or compete in your next adventure she has the tools for you! Ready to start your journey?
Live Stronger for Today,
The Method3 Fitness Team

Did you like this blog? Be sure to LIKE, LEAVE A COMMENT, and SHARE it on your favorite channel!
The Method3 Fitness blog is updated weekly. All content is designed to improve the way you move, eat, and think so you can achieve your goals and live stronger for today. Check back here each week and LIKE our Fan Page, to stay up to date on the latest tips, strategies and methods to get fit, lose fat, and build confidence. Ready to get started with us? Click here to get a free week of workouts!