Group Training Tailored to You
At Method3 Fitness, we're helping men and women of all fitness levels find success. In our Small Group Fitness Classes our attentive coaches never let you go unnoticed as they motivate you through fun, functional, and challenging workouts.
We are proud to train people all across San Jose Campbell, Los Gatos, and beyond. Come see us today or simply fill out the short form on your screen to learn more!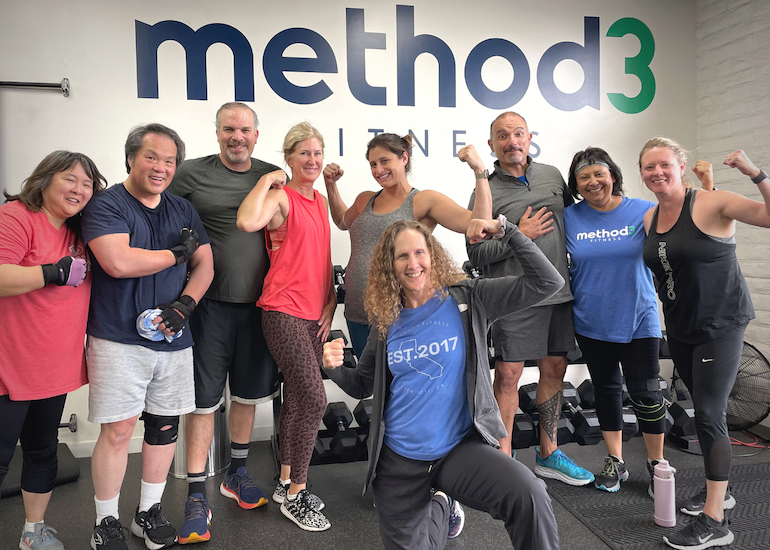 What Sets Our Small Group Classes Apart?
Supportive Community - You'll be coached and encouraged by our friendly coaches and members that make you feel like you belong from your very first workout.
TOA Certified Coaches - By addressing key health issues like osteopenia, sarcopenia, and obesity, our TOA (Training The Older Adult) certified coaches bring expertise tailored to the unique needs of older adults, ensuring top-notch care, support, and results in all of our small group classes.
Quality Results - Our expert coaches rely on functional strength and isometric strength movements combined with high-energy circuit training to help you get the very most out of your 45-minute class.
Diverse Options - Flexible class times that fit into crazy schedules and varied workouts so no two visits are the same.
Fun & Personal Experience - Even in a group class, our supportive coaches give you personalized attention and never let you go unnoticed as they push you through a variety of full-body workouts designed to challenge you and help you achieve your goals.

Join Us Today For The Best Fitness Training in San Jose, Campbell, and Los Gatos!
What Our Clients Say