If your resolution is to lose weight in 2019, there's a good chance that you're searching for one diet that will help you succeed. Well, you're in luck! Our nutrition team put their heads together and did all the work for you, by researching the most popular diets of 2018 and comparing them in this blog. Read on to find out what they are, what they involve, and which one came out on top as the best choice to roll over into 2019 with!
The Diets & Criteria
A healthy weight loss plan should teach you how to recognize and incorporate appropriate, realistic, life-long changes to your eating and exercise habits. This means that you probably won't lose a ton of weight right away, but you WILL be more likely to keep the weight off. On the contrary, a poor plan requires you to make drastic changes that are often difficult to implement and may even compromise your health. We wanted to find out the pros and cons of popular diets to see which ones were meant to yield lasting results. Our nutrition coaches looked at:
The Whole30
The Ketogenic Diet
The Paleo Diet
The Vegan Diet
Low Carb – South Beach/Atkins/etc.
Thrive In 35
The Results
The following info-graphic summarizes what we found.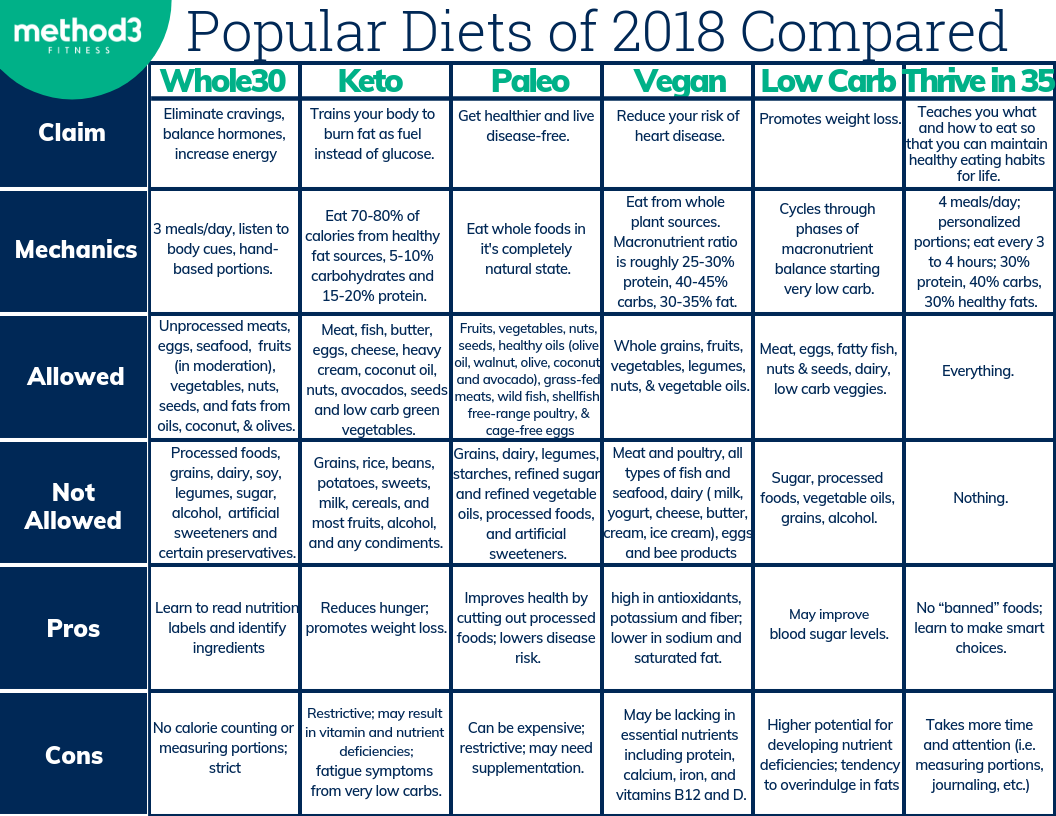 In addition to the claims noted above, many of the diets listed promised fast weight loss without the science to back it up. As you can see, diets involved eliminating foods that contain important nutrients such as fiber, vitamins and minerals, and some diets even cut out entire food groups! For the food groups that these diets do allow, the macronutrient distribution of protein, carbs and fat, are either well above or well below those recommended by nutrition experts.
The Most Important Factor: Sustainability
As we mentioned above, a healthy weight loss plan should teach you about realistic life-long changes to your eating and exercise habits. Fad diets have one thing in common: once the diet is stopped, the lost weight is usually re-gained quickly. Why? None of them teach you how to change your eating habits. A sustainable diet would teach you:
What a proper portion looks like.

How to eat a variety of foods from all food groups, no gimmicks required.
Perhaps you won't lose a ton of weight right away, but the good news is that you will be more likely to keep the weight off because you have learned how to move, eat and think the right way! That's why we believe that Thrive in 35 is, hands down, the best solution for those seeking to lose weight, tone up, and get in shape. In the program, you're given crucial knowledge and tools that will help you achieve your fitness and health goals for the long haul. Click here to learn more about the program and to find out when the next Thrive In 35 enrollment begins.
Stronger for Today.
The Method3 Fitness Team
If you found this blog useful, be sure to LIKE, LEAVE A COMMENT, and SHARE it on your favorite channel!
The Method3 Fitness blog is updated weekly. All content is designed to improve the way you move, eat, and think so you can achieve your goals and live stronger for today. Check back here each week and LIKE our Fan Page, to stay up to date on the latest tips, strategies and methods to get fit, lose fat, and build confidence. Ready to get started with us? Click here to get a free week of workouts!