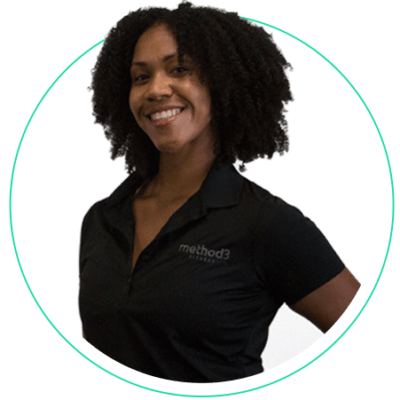 Nadia Santiago
Nadia Santiago is a Fitness Coach and resident Yoga Instructor at Method3 Fitness, bringing her expertise and passion to the fitness community. Since 2012, she has been teaching classes and leading one-on-one sessions, inspiring individuals on their wellness journeys. Nadia is a Certified Personal Trainer and certified Group Fitness Instructor through the American Council on Exercise. In addition, she holds a 500 Hour Registered Yoga Teacher certification and is a Yoga Alliance Certified Continuing Education Provider.
With her multifaceted background as a professional blogger and digital content creator, Nadia combines her skills to empower individuals and families to build healthier, happier lives. She is dedicated to spreading knowledge, providing guidance, and creating a positive impact. Whether it's through coaching, yoga instruction, or online content, Nadia is on a mission to make a difference.
When she's not inspiring others, Nadia enjoys indulging in karaoke sessions, attending dance classes, and playing grass volleyball. These activities bring her joy and contribute to her active lifestyle.
Coach Nadia's diverse skill set, combined with her TOA (Training The Older Adult) certification, enables her to cater to the unique needs of older adults and provide specialized guidance for their fitness journeys. She believes in the power of movement, mindfulness, and community, and strives to create an inclusive and supportive environment for all.